Fahrzeugdetails & Ausstattungsmerkmale
Fahrgestellnummer

SCBCS13SXLC078091

Kraftstoffverbrauch innerorts

17,0 l/100km

Kraftstoffverbrauch außerorts

9,3 l/100km

Kraftstoffverbrauch kombiniert

12,1 l/100km
---
---
Wir sind Vertragshändler der Marke Bentley und bieten Ihnen hier einen absolut neuwertigen NEW Continental GT an

Außenfarbe Beluga
Innenfarbe Beluga
Furnier Piano Black
Nähte und Lederkeder in Kontrastfarbe "Hotspur"
Hochflorige Fußmatten mit Lederkeder in Kontrastfarbe "Hotspur"
Mulliner Driving Spezifikation (in Verbindung mit 22-Zoll Felgen schwarz lackiert, Rautensteppung des Leders im Innenraum, Tankkappe und Öldeckel ausgeführt in Alu-Optik, Aluminiumpedalerie)
Centenary Spezifikation (in Gold eingefasste Bentley Logos zum 100-jährigen Firmenjubiläum)
Touring Spezifikation (Spurhalteassistent, Abstandsregeltempomat (ACC), Bentley Safeguard Plus, Nachtsichtassistent, Head-up Display)
City Spezifikation (Sourround-View Kamerasystem, Verkehrszeichenerkennung, City-Assistent, Fußgängerwarnung, Spurwechselassistent, Automatisch abblendende Spiegel, Automatische Kofferraumöffnung mit Gestensteuerung)
Komfort-Spezifikation für die Frontsitze mit Sitzheizung, Sitzbelüftung, Memory-Funktion und Massage-Funktion
Beheizbare Frontscheibe
Lenkradheizung
Zierleiste in Chrom auf den Dekorleisten im Innenraum
Batterieerhaltungsgerät
Bentley Rotating Display
Standheizung
Integrierter Garagentoröffner
Continental Blackline Spezifikation
Induktives Mobiltelefonladegerät vorne
Ambiente-Beleuchtung im Innenraum
Bremssättel ausgeführt in Rot

Besuchen Sie uns. Wir sind nur 15 Minuten vom Frankfurter Flughafen entfernt.
No Special Edition
Vehicle Class Differentiation 370/371
Standard Rear Exhaust System
Emissions Concept - EU6 DG
Without Towing Attachment
Driver and Front Passenger Airbag with Front Passenger Airbag Deactivation
Activated Carbon Canister
Without Stowage Box
Without Exterior Lower Body Styling Specification
Front Armrest - Match to Console
Rear Armrest - No Colour
Electrically Operated Door Mirrors with Heating Power Folding Auto Dimming and Memory Function
Left Exterior Mirror Convex
Without Outside Sound Measures
Right Exterior Mirror Convex - ROW
Without Alternative Drive Module
Four Wheel Drive
Without Multimedia
Comfort Sports Equipment
Aluminium Tint / Carbon Fibre Colour - No Colour
Contrast Binding to Boot Carpet - Without Contrast Binding
Gear Lever - Match to Secondary Hide
Seat Inserts - Match to Main Hide
Cast Iron Rear Disc Brakes 380x30mm Red
Battery 580A (105 Ah)
Cast Iron Front Disc Brakes 420x40mm Red
Body-Coloured Exterior Mirror Housings
Boot Carpet - Without Boot Carpet Overmat
Without Country Specific Design Requirements
Contrast Stitching and Seat Piping
Battery Charger - European Adaptor
Tool Kit - Without Jack
Information Kit in German
Cantrail - Match to Secondary Hide
DVD Player
Front Console Outer - Match to Secondary Hide
Grey and Green Services
Without Connect Package
Emergency Assistance Call and Roadside Assistance Call
Contrast Binding to Carpet Overmats - Match to Contrast Stitching
Carpets - Match to Secondary Hide
Personalised Embroidery - Without Personalised Embroidery
4-Corner Air Suspension with Electronic Shock Absorption Control
Without Sunroof
Chrome Pinstripe to Fascia and Door Waistrails
Door Insert - Match to Main Hide
Door Swoosh - Match to Secondary Hide
Top Roll Lower - Match to Secondary Hide
Narrow Fuel Filler Neck - RoW
Anti-Theft Alarm System Interior Monitoring Backup Horn and Towing Protection
Upper Decorative Inserts - Piano Black
Decorative Insert for Console - Piano Black
Illuminated Bentley Sill and Derivative Treadplate
Lower Decorative Inserts - Match to Upper Finish
Emblem Stitching - Hotspur
Without Interior Badges
Top View Camera
Bentley Safeguard - Rear
Electric Interface for External Use - USB Sockets
Power Latching to All Doors
Accent Line - Match to Console
Standard Manufacturing Sequence - Crewe
Without Fire Extinguisher
Bentley Dynamic Ride
Extended and Crash-Active Pedestrian Protection
Sports Pedals
Daytime Running Lights with Low Beam Assistant Without Coming Home Function
Dust and Pollen Filter
Without Vehicle Tracking System
Fascia Wing Upper - Match to Headlining
Without Curtains
Night Vision
Alternator 160-250 A
Without Weight Category for Rear Axle
Without Weight Category for Front Axle
12-Cylinder SI Engine 6.0 l Unit 07P.D
Adaptive Cruise Control - With City Assist
Remote Controlled Garage Door Opener
Eight-Speed Automatic Transmission for Four-Wheel Drive Vehicle
Design Line - No Colour
Knurled Surfaces - No Colour
Console Technical Finish - No Colour
Default Family 4 - No Colour
Default Family 5 - No Colour
Default Family 6 - No Colour
Default Family 7 - No Colour
Default Family 8 - No Colour
Default Family 9 - No Colour
Default Family 10 - No Colour
Steering Wheel Ingot - No Colour
Steering Wheel Stitch - Match to Contrast Stitching
Rear Quarter Swoosh - Match to Secondary Hide
Basic Rear Axle Differential
Headlining - Match to Secondary Hide
Headrests - Match to Main Hide
Standard Rear Axle
Indented Hide Headlining
Two Separate Fixed Rear Seats
Climatronic Free of CFC
LED Headlamps with Variable Light Distribution
Head-Up Display
Instrument Panel Km/h Celsius - RoW
Coupe
Standard Boot Carpet
Fuel Tank Capacity 90 Ltr
Glove Compartment Cooling System
Without Picnic Tables
Standard Climatic Zones
Ventilated Front Seats with Massage Function
Booster Type 1 - EU/Row
Fuel System For SI Engine With Direct Injection (FSI)
Black Gloss Radiator Matrix Grille with Black Surround
Refrigerant R1234yf
Rear Licence Plate Bracket - ECE
Front Licence Plate Bracket Large - RoW
Standard Paint
Mood Lighting
Without Vehicle Inlet
Left-Hand Drive
Speed-Related Variable Steering Assist (Servotronic)
Vents to Front Wings
Matrix Beam Headlamps
Without Charging Cable
Without Charging Cable - Industrial Connector
Without Mode 3 Charging Cable
Power Adjustable Lumbar Support to Front Seats
Heated Single Tone 3 Spoke Hide Trimmed Steering Wheel
Driving On The Right
Standard Audio System - Base System
Steering Column Axially and Vertically Adjustable with Memory System and Easy Entry Function
Standard Hide
Without Rear Armrest
Front Centre Armrest-Heated
Digital Kombi Display - With Traffic Sign Recognition
Main Hide - Beluga
Short Rear Centre Console
12-cyl. SI Engine 6.0 L /467 KW (48V) W12 FSI Biturbo Base Engine is T0Q-6
Without Neck Warmer
Navigation System - High
Increased Payload for Plus
Surface Quality - Standard Smooth or Knurled Surfaces
Jewel Oil Filler Cap
Online Service without OCU with Head Unit Coding without Engine Immobilizer Interconnection
Vehicle Without Special upgrade Measures
Continental Blackline Specification
Inductive Phone Charger
Centenary Specification
Touring Specification
Front Seat Comfort Specification
Mood Lighting Specification
Seat Piping - Match to Contrast Stitching
Standard Brakes with Red Painted Calipers
Mulliner Driving Specification with Black Painted Wheel - Exclusive to Continental Black
BENTLEY Wheel Centre Caps
22" Five Open-Spoke Alloy Wheel - Full Black Painted
Radio High Plus - Gen 2
Without Smoker's Specification
Radio Code - ECE
Tyre Pressure Monitoring Frequency - 433 MHz
Without Umbrella
22" Summer Tyres
Pirelli Tyres
Without Spare Wheel - With Tyre Inflation Kit and Compressor
Roof Combination - No Colour
Roof - No Colour
Roof Interior - No Colour
Single Finish - Piano Black
Short Wheelbase
Front Seat Belts with Hide Trimmed Buckles
Without Emergency Call Control Unit
Side Airbag in Front with Curtain Airbag
Hide Trimmed Gear Lever
Seat Bolster Outer - Match to Main Hide
Taillight Assemblies Standard Design - ECE RoW
Seat Belts - Match to Contrast Stitching
Steering Column Cowl - Match to Secondary Hide
Hands Free Boot Opening
Without Service Indicator
Seat Backs - Match to Headlining
Steering Wheel Rim - Match to Secondary Hide
Seat Belt Warning Light with Acoustic Warning
Rear Seat Belts with Hide Trimmed Buckles
Secondary Hide - Beluga
Diamond Quilted Hide Seats
Front Seats Electrical Adjustment 2 Memory Positions
Front Seat Heaters Separately Controlled
Seat Insert Outer - Match to Main Hide
Special Plates / Stickers - Germany
Standard Gear Paddles
Side Turn Signal Lights
Without Cushion/Pillow
Without Valet Key
Start/Stop System with Default On Memory Function
Heavy Duty Horn
Seat Outer - Match to Headlining
Reverse Traffic Warning
Lane Assist
Side and Rear Windows Non Privacy with IR Barrier
Blackware Strip to Front Fender Doors and Rear Quarter
Centenary Pack
Without Rear Sunblind
Contrast Stitching - Hotspur
Matt Black Lower Bumper Matrix Style Grille
Traffic Jam Assist
Hand Cross Stitching - Without Hand Cross Stitching
Sunvisor - Match to Headlining
Without Headlight Washer System
Exterior Badge to Wing Vent
Jewel Fuel Filler Cap
Keyless Entry Remote Control with Safe Locking and Start/Stop Button
Type Approval - Germany
Carrier Frequency 433.92 - 434.42 MHz - Without Panic Button
Delivery Cover
Diamond Quilted Hide Door and Rear Quarter Inserts
2 Doors
Digital Radio
Special Identification Plate - EC
Chrome Bentley Wings Fitted to Radshell and Boot
First Aid Kit and Warning Triangle
Comfort Front Seats
LED Welcome Lamps - By Mulliner
Waistrail - Match to Secondary Hide
City Specification
Without Wind Deflector
Without Heat Accumulator / Auxiliary Heating
Heated Windshield
Without Fine Lines
Interior Colour Split - D
Standard Paint Range
Adjusted Feature Content
Embroidered Bentley Emblems
Contrast Seatbelts
Continental
Bentley Rotating Display
Build Country - Germany
Deep Pile Overmats - Front
Without Additional Information Pack
Black Fittings to Windows and Doors
Upper and Lower ISOFIX Mountings
Starter Switch Locking System
48-V Electric System
Parking Heater
Main Paint - Beluga (Solid)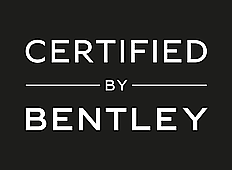 CERTIFIED BY BENTLEY
Mit einem von Bentley zertifizierten Gebrauchtwagen sind Ihre Zukunftsaussichten außergewöhnlich. Der Erwerb eines gebrauchten Bentley eröffnet Ihnen eine exklusive Welt – eine Welt, die auf einem Jahrhundert unübertroffener Handwerkskunst und atemberaubender Leistung beruht und von einer Community gleichgesinnter und inspirierender Bentley-Besitzer angetrieben wird.

Wählen Sie ein gebrauchtes Certified by Bentley-Modell und nutzen Sie eine Reihe von exklusiven Vorteilen, wie beispielsweise eine zwölfmonatigen Garantie. Weitere Informationen über die Vorteile von Certified by Bentley und unser komplettes Fahrzeugangebot erhalten Sie unter der Rufnummer +49 6172 4997 100 oder bei einem persönlichen Besuch bei Bach Premium Cars GmbH.